MINICAN DISPOSABLE
Disposable e-cigarettes BRUSKO MINICAN DISPOSABLE are devices with a classic design for POD systems BRUSKO MINICAN. High autonomy of e-cigarettes is achieved due to the volumetric battery. A built-in mesh coil made of nichrome with a resistance of 1.2 ohm is responsible for the bright aroma transfer.
Battery capacity: 1000 mAh.
Size: 6 ml.
Puffs: up to 1500 *.
Strength: 20 mg/ml.
* Up to 1500 - maximum number of puffs. The exact number of puffs depends on the individual style of use.
This is the first disposable e-cigarette released by BRUSKO brand in collaboration with
Aspire
.
APPLE WITH ICE
Refreshing taste of a juicy green apple.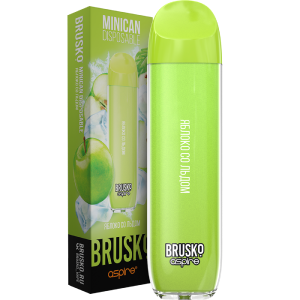 BANANA ICE
Sweet, juicy and refreshing banana pulp.
BANANA PAPAYA
Sweet, creamy papaya flavour with mouth-watering banana motives.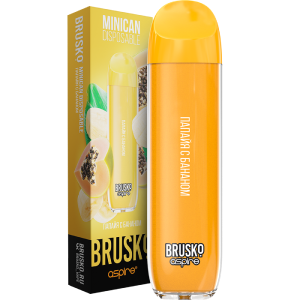 BLUE RASPBERRY
Fresh raspberries with notes of unique blueberry.
LEMON BLUEBERRY
Tart blueberry intense with juicy lemon.
LEMON WITH LIME
Sweet and sour delight in a classic combination of citrus lemon and lime.
MANGO ICE
A refreshingly bright taste of ripe red mango.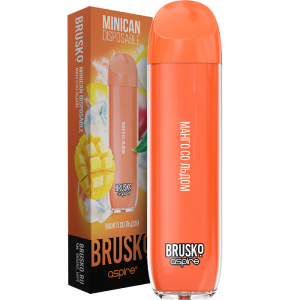 PINEAPPLE WITH POMELO
Sweet and sour mix of pineapple pulp and pomelo.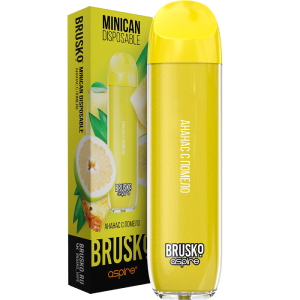 RASPBERRY GRAPEFRUIT
Light citrus sour with fragrant garden raspberries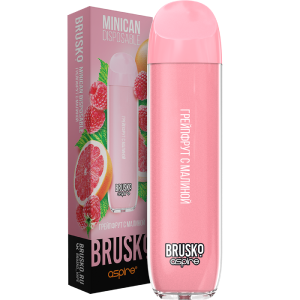 STRAWBERRY BANANA
An attractive strawberry aroma with soft banana aftertaste.