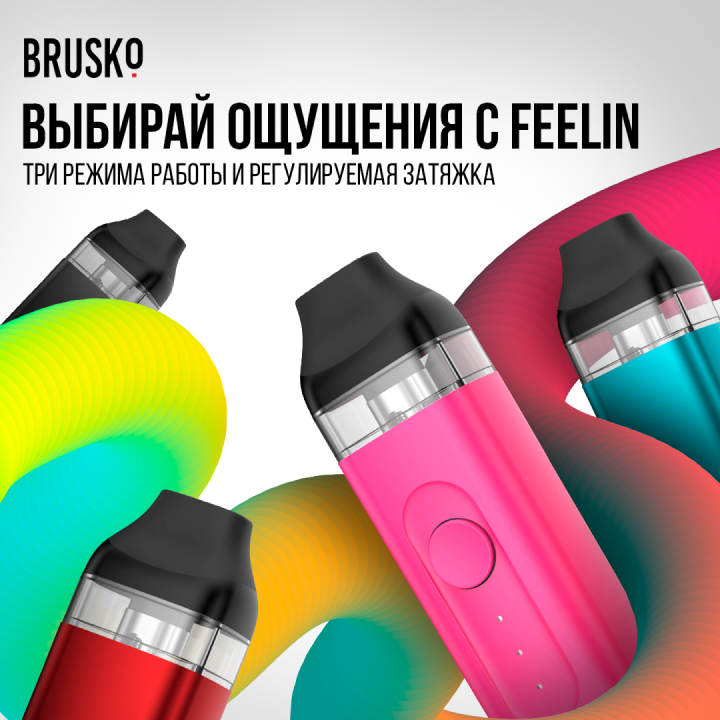 11.07.2022
BRUSKO FEELIN – the Quality and Style in the Vaping World
BRUSKO FEELIN is an e-cigarette with a replaceable coil and three work modes designed by BRUSKO in collaboration with Nevoks.
Case of the easy-to-carry and fancy BRUSKO FEELIN is made of polycarbonate and impact-resistant plastic thus making the device highly sustainable to practically any environmental stress: dropping to the tile or pavement is no harm for it. NX chipset is responsible for safety inside the device, protecting the internals of the e-cigarette from overheat, short circuit and from other technical breakage.
The original drip-tip made of thermoplastic rubber has a classic for the whole FEELIN series oval shape, and 2,8 ml pod made of impact-resistant plastic has perfect leakproof qualities if handled properly.
The pod is attached to BRUSKO FEELIN device due to a system of magnets, that enables safe joint even if used actively.
The airflow adjustment is made by turning the pod 180° allowing you to switch between loose or tight MTL airflow.
There's a 0,8 Ohm replaceable coil inside the pod. Modern mesh construction of the coil alongside with organic Japan cotton enable bright taste transfer and let you feel even the slightest notes of the flavour. This Nevoks pod is compatible with coils 0.6 and 1.0 Ohm resistance. Besides that, you shouldn't replace the whole pod if the coil is burnt, just replace the coil itself in the same pod and continue enjoying the device!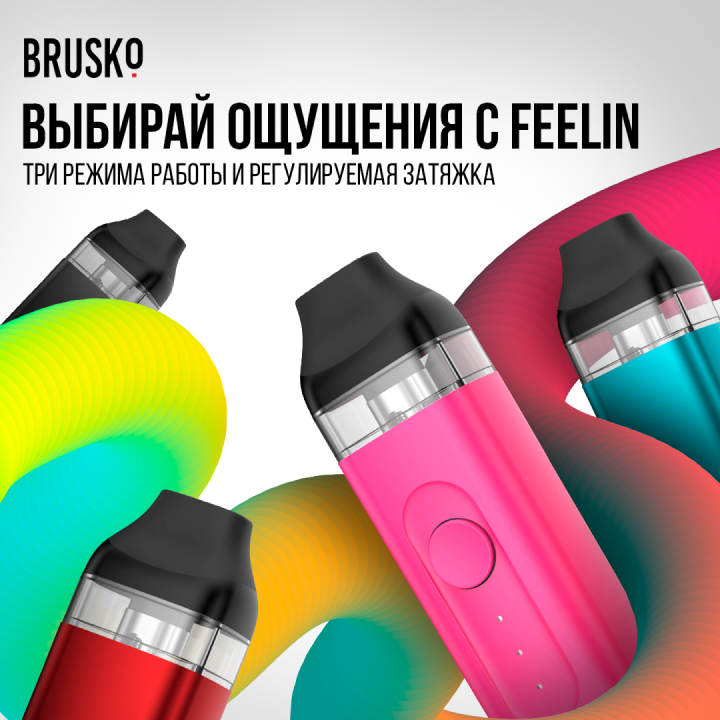 The key advantage of BRUSKO FEELIN in comparison to other devices is its versatility.
To start with, BRUSKO FEELIN is equipped with USB Type-C charging port with fast charge function, due to 1000 mAh battery you can charge your device from 0 to 100 in just 50 minutes. The battery level is easily detected by three indicators on the left side of the device.
Second, turned-on BRUSKO FEELIN can be auto-draw and button activated. Both options will bring you enjoyable vaping.
Third, as previously stated, an array of coils 0.6 Ohm, 0.8 Ohm and 1.0 Ohm are compatible with the device. Each of them has its own operating power range. BRUSKO FEELIN features power adjustment by triple pushing the button. Any user can choose one of the options: 3.1 V, 3.4 V or 3.7 V. Adjusting the power, the device output (10-22 W) aligns itself to the resistance of the chosen coil.
Discover new sides of vaping with BRUSKO FEELIN!